*News and customization Moodle 4.1*

Next, we make a brief review of the main navigation novelties of Moodle 4.1, which will be available in the August update.
During the month of July you will see your 2023-24 courses at aulavirtual.uv.es, and you can work on them without problems, adding content, etc. The AulaVirtual update will be transparent regarding the content introduced. Only changes to the interface and new features will be seen from August.
*Site navigation*

So, the biggest change is in navigation. When accessing, you'll see that:

The navigation bar (hamburger menu) is removed from the left of the personal area.

The essential navigation buttons are now located at the top of the site as tabs. For example, Home, Member Area, and My Courses are located in the header bar.
*My courses and Personal Area*
My Courses and Personal Area are now on separate pages:

You will go directly to the My Courses page, once authenticated, where you will see a list of all the courses and communities you can access. This list of courses can be filtered by academic year or communities.


Personal area page. Where you will find the Timeline and Recently Accessed Courses blocks as default blocks. Remember that the Personal Area can be customized with the list of blocks available, such as Calendar, etc.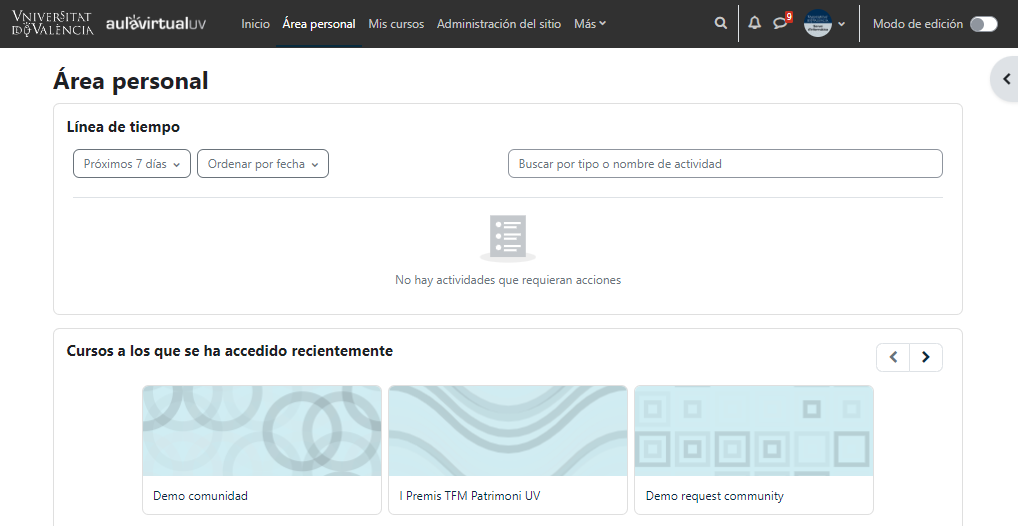 Another notable novelty is that the courses have a default icon to identify each course/community. If the manager wants to change it, he/she must add a file with the desired image in the course settings.
*Courses:*
On the left side of the course area is a menu that displays the course contents, and the menu on the right side is reserved for blocks. Both menus can be hidden to focus on the main content.

Grades, participants, and settings in the manager view can be found in the tabs under the course name.

The option import has been renamed to reuse course.
Note that the course edit button is located in the upper right header, highlighted in red when activated.

In the official courses you will see a block called General UV Links with new icons at the top of the course. You can move it if you want to the block area on the right.

On the other hand, the activity and resource icons have also been customized, without deviating from the Moodle standard, and are grouped by functionality in different colors:

Pink the activities and resources of assessements, like tasks and quizzes. 
Green activities and resources of communication.
Salmon activities and resources of collaboration.
Dwelt activities of administration.
Blue activities and resources of content.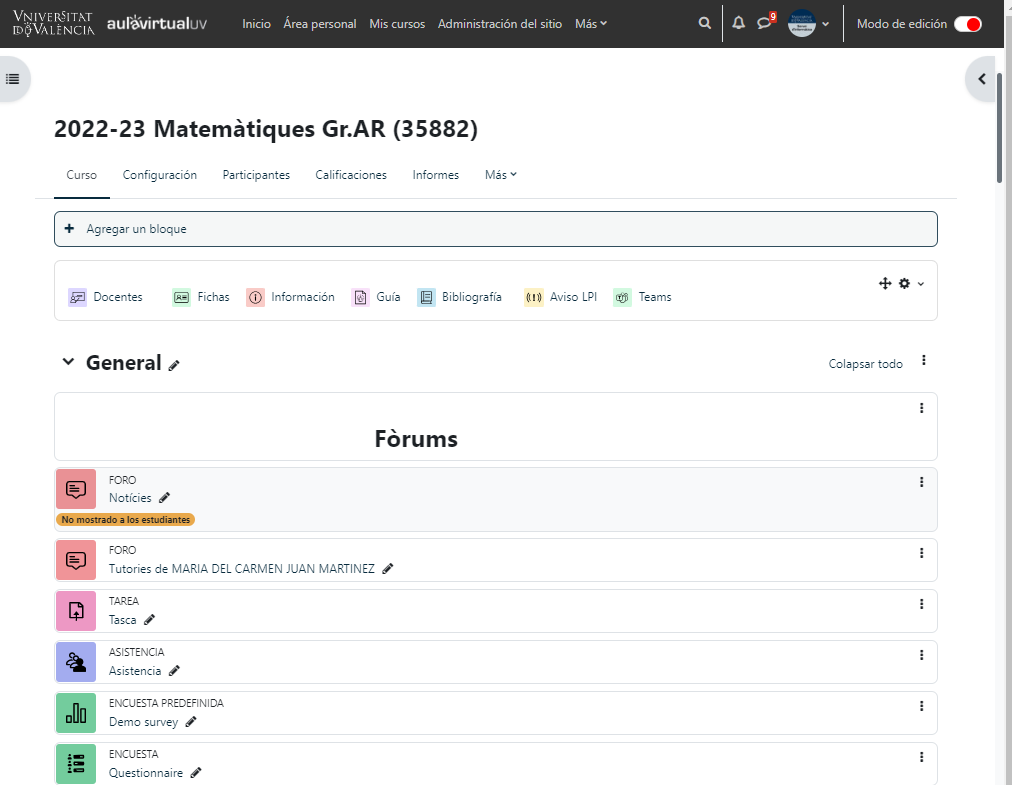 Finally, we recommend that you watch a quick overview of these new features in the following video 

Here is a Moodle 4.1 manual for teachers prepared by the Universidad Politécnica de Madrid
https://www.uv.es/avirtual/moodle/Manual_Moodle_4_1.pdf